Shoe Measurement Guide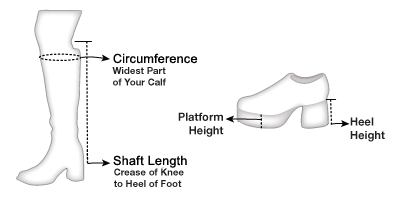 Foot Size: Measured from the back of the heel to the tip of the longest toe.
Shaft Length: Measured from the base of the heel, up the back of the calf, to the top of the boot.
Circumference: Measured at the fullest part of the shaft.
Heel Height: Measured from the sole of the heel to the floor.
Platform Height: Measured from the sole (at the ball of the foot) to the floor.
Please Note:
Platform shoes give you height without the hurt. While you will get the full height of the heel, platforms ensure that your foot is at a more comfortable incline. To get your actual foot elevation, take the measurement of the heel height minus the platform height.
Measure both of your feet. If one foot is larger than the other, buy the bigger size for maximum comfort.
Shoe and boot measurements are approximate. If you are at the larger end of the size range, you may wish to order the next size up for best fit.
Please try out the fit and comfort of your shoes before you use them. Shoes that show obvious wear, or are missing the original packaging, are not returnable.