Posted on February 01, 2016

American Cake Decorating Magazine

Frog Cake
2 9-inch, round cake layers

11-inch round cake board, covered

Buttercream

Chocolate buttercream

Parchment or pastry bags

Tips: #4, #5,#7, #352

Icing colors: blue, green, red, yellow, black, and purple
1 - Fill and ice a 9-inch round cake with blue buttercream. Load a pastry bag with either brown or chocolate buttercream and tip #5. Pipe tree branches around the cake sides and onto the top.
2 - Prepare a bright shade of green buttercream for piping leaves. Vibrant leaves are great for children's cakes. Pipe large leaves onto the branches using tip #352.
3 - Tropical frogs exhibit bright colors and are visually appealing. Pipe these frogs in bright red and yellow. A simple red zigzag using tip #7 creates the body for the first frog. Position it on the side of the cake, peeking over the edge.
4 - Insert the tip into the frog's body at the shoulder and pull out the front legs, brining them onto the top of the cake. Add three toes, each ending with a ball of icing. Squeeze firmly to create the head, building up a ball of icing. To this, add dollops for eyes and an arc for a mouth.
5 - Open Z-shaped patterns create the hind legs. Add toes as before.
6 - Pipe a second frog directly opposite the first, this time in yellow buttercream.
7 - With black buttercream and tip #4, pipe stripes to cover the zigzag lines on the frogs' backs. Then add additional stripes on the legs and head of each.
8 - Finish piping the detail by piping in the whites of their eyes, black pupils, and 2 curved lines for a mouth. Add long, curved purple tongues piped with tip #4. Add a message to the center of the cake if desired. A simple tip #18 shell border in brown icing completes the cake.
Cakes, Cakes and MORE Cakes
"How'd they do that?" becomes, "I can do that!"

From gorgeous, realistic gumpaste flowers to delightful 3-Dimensional sculptures in buttercream, and everything in between American Cake Decorating shows you how to do it. Enlightening step-by-step photographs and detailed instructions take the wonder out of cake decorating and provide the background you need to decorate beautiful cakes.
American Cake Decorating seeks out decorators with unique skills and ideas, giving you the benefit of their experience right in your own home. For just a few dollars per issue, you can learn many of the same techniques taught in Master Classes costing hundreds of dollars.
You will see how new tools and equipment can save you time and enhance the beauty of your cakes, new techniques will broaden your repertoire and open a new world of decorating possibilities, and variations on traditional methods will simplify your work and help you create a style that is all your own.
If your passion is cake decorating, American Cake Decorating is more than a magazine, it is a passport to a new realm of possibility!

More information
http://thepartyworks.com/article_info.php/cArticlePath/180/articles_id/1104
To Subscribe
http://thepartyworks.com/index.php/cPath/194
You'll be glad you did!


*****************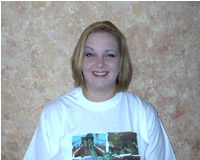 Andrea Seifert has been decorating for over 10 years and currently decorates for Erdman's County Market in Kasson , MN . She credits her mother who is a wedding consultant and painter for her creative bent. In 2003 she represented the Minnesota Bakers Association in the RBA's Creative Decorating Competition.