Posted on February 01, 2016

Avacado - Pear - Honey Pastry Appetizer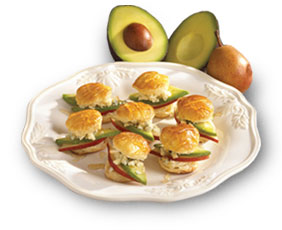 Try this ultimate appetizer to tempt your guests. Pastry rounds may be baked in advance and kept in airtight container at room temperature for up to two days. Recipe yields about 48 pieces.
Ingredients
All-purpose flour
2 sheets frozen puff pastry, thawed
1 egg yolk
1 tbsp water
2 small, ripe Hass avocados, peeled, seeded, thinly sliced
2 small, ripe red pears, cored, seeded, thinly sliced
Juice of one lemon
1 cup crumbled Gorgonzola cheese
Honey in a squeeze bottle
Instructions
Preheat oven to 400 degrees. Lightly coat baking sheet with cooking spray. Lightly flour cutting surface and cut 1-1/2 inch round circles from pastry sheets (about 24 from each sheet). Place on prepared baking sheet one inch apart. Whisk egg yolk and water in small bowl to create an egg wash; brush wash over each pastry round. Bake for 15 minutes until tops are puffed and golden brown. Transfer rounds to wire rack to cool.
To serve, gently split each puffed round with sharp knife to create a small pocket. Stack an avocado slice atop a pear slice and sprinkle lightly with lemon juice. Place slices in the pastry puff pockets and top with ½ tsp of crumbled cheese each. Loosely close the pockets and place on serving tray. Drizzle a bit of honey from about 12 inches height on each pastry and serve immediately.