Posted on February 01, 2016

Holiday Foods and Desserts
Bread Snowman
Simple, easy and oh so cute and good,
using frozen bread dough from your grocery store.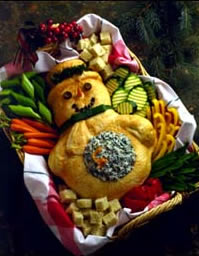 Snowman Pan
2 pieces to make stand-up or lay flat bread, cakes and more
http://thepartyworks.com/product_info.php/cPath/3_6/products_id/3600



2 loaves (16 oz. each) frozen bread dough, thawed
1/2 teaspoon garlic powder
1 teaspoon dill weed


To thaw bread dough, place in plastic bag at room temperature for 4-6 hours.
Or let thaw overnight in refrigerator.
Grease the top Snowman pan with solid vegetable shortening.
Combine loaves and knead together with seasonings.
Form into oblong loaf.
Press in greased pan and let raise until doubled in size.
Bake at 350° for 25-35 minutes or until golden brown.
Remove bread from pan and cool.
Trim top so that snowman rests flat on tray.
Hollow out belly and reserve trimmed bread for dipping.
Cut reserved bread in cubes, spoon dip into snow-man.
Serve with carrot sticks, celery, zucchini and bread cubes.
To decorate snowman:
For tie, dip green top of leek into boiling water or place in microwave
30 seconds to soften. Place on snowman.
Use black olives for eyes, small carrots for nose, parsley for hat trim.
Spinach Dip
1 1/4 cup sour cream
3/4 cup mayonnaise
1/2 teaspoon black pepper
1/2 teaspoon salt
1 teaspoon dried basil
1/2 teaspoon chopped fresh or dried dill
1/4 teaspoon garlic powder
1/4 cup chopped green onion
1/4 cup shredded carrots
1 (16 oz.) package chopped spinach, thawed and drained
3/4 cup chopped roasted walnuts

Combine ingredients in order listed.
Dip can be made a day before serving; cover and refrigerate.
If made ahead, add nuts just before serving.
To roast nuts, spread on cookie sheet and place in a 350° oven for 8-10 minutes.
Delicious, simple... lots of oooohs and aaaaahs!
We are proud retailers
of the superb
Wilton products!
Sold at
www.thepartyworks.com
* * * * * ********************************************* * * * * *