Posted on February 01, 2016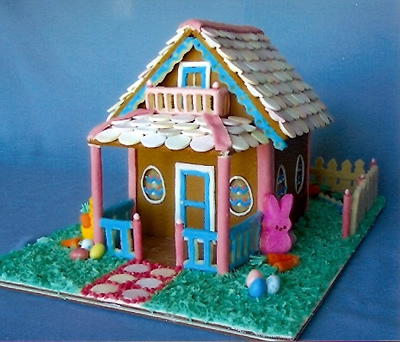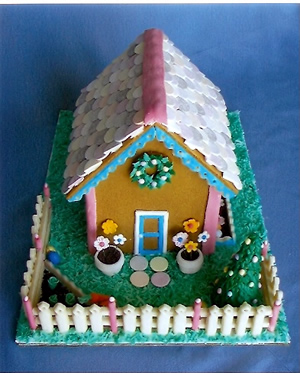 Easter Bunny Rabbit Hutch
Construction: Gingerbread and sugar cookie dough.
Windows are crushed yellow lifesavers and baked with the cookie, then decorated with Royal icing.
Roofing tiles are Necco wafer candies.
Assorted egg shaped candies.
Nerds are the rocks in the walkway.
Carrots, Easter basket, flowers, flower pots, lettuce in the garden, door frames, and pink strips down the house and roof are fondant.
Tree is upside down ice cream cone covered with Royal icing.
Finials on the porch, balcony, and fence posts, plus the tree and wreath decorations are egg-shaped cake sprinkles.
The fence is sugar cookie dough iced in white.
Grass is coconut dyed green.
Easter Bunny Peep.
The only things not edible are the wire the flowers are attached to and the support beams for the porch and the pink fence posts, they are fondant-covered lollipop sticks.