Posted on February 01, 2016

Chili
'Corn'erback
Stuffed One-Step Bread
Casserole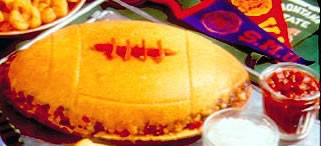 First and Ten Football Pan
(so very versatile to use for so many different themed
cakes, breads, Jell-O, Rice Krispies, etc.)
http://thepartyworks.com/product_info.php/cPath/3_6/products_id/991

Ingredients:
1 pound ground beef
3/4 cup chopped onion
3 cloves garlic, chopped
1 tablespoon vegetable oil
1 teaspoon chipotle or chili powder seasoning
1 teaspoon salt
1/4 teaspoon ground black pepper
1 can (4 ounces) chopped chilies, drained
1 can (16 ounces) corn niblets, drained
1 can (14.5 ounces) diced tomatoes in thick juice, undrained
1/4 cup sliced black olives, drained
3/4 cup shredded cheddar cheese
3 (8.5 ounce) packages cornbread mix
Vegetable pan spray
Red pepper for garnish

Condiments Ingredients:
Sour cream
Shredded cheddar cheese
Salsa
Chopped green onion

Preheat oven to 400° F.
Spray First and Ten Football Pan with vegetable pan spray.
In medium frying pan, brown ground beef, drain and set aside.
In same pan, heat 1 tablespoon vegetable oil and cook onion and garlic until soft, but not brown 3-5 minutes.
Stir in cooked beef and remaining ingredients except for cheese and cornbread mix.
Heat for approximately 5 minutes.
Meanwhile prepare cornbread mix following instructions on package.
Spread half of the cornbread batter into prepared football pan.
Add all the ground beef mixture.
Top with cheddar cheese and spread remaining batter over all.
Place on cookie sheet.
Bake 35-40 minutes until golden brown.
Place on cooling grid, cool for 10 minutes, loosen sides and turn out onto serving platter.
Let stand 10 additional minutes before slicing.
Garnish football hatch marks with red pepper strips.
Serve in slices with assorted condiments.
YIELD: Serves 8-10
* * * * ***************************************************** * * * *