Posted on February 01, 2016

Frosty French Toast
These Frosty Snowflake shaped French Toast are oh-so-pretty when served, everyone will enjoy eating them often throughout the cold winter months and especially during the holidays!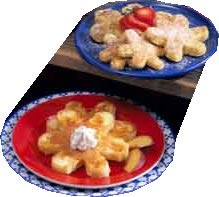 TIME SAVER:
French toast can be made ahead.
Refrigerate, covered, on cookie sheet.
Re-heat in 400 Degree F. oven to serve.
When refrigerated overnight and re-heated,
the French toast snowflakes will shrink slightly.
Snowflake Nesting Metal Cutters
Use for cookies, brownies, rice krispies, too.
8 to12 thick slices day-old bread
3 eggs
3/4 Cup Milk
1-1/2 Tablespoons Granulated Sugar
1/4 Teaspoon Salt
1-2 Tablespoons Butter or Margarine
1/8 teaspoon cinnamon or maple candy flavoring
Confectioners' (Powdered) Sugar
Press cookie cutters squarely down to cut snowflake shapes from bread.
Melt butter in skillet over low heat. In shallow bowl, beat together eggs, milk, granulated sugar, salt and candy flavoring. Dip bread into mixture, coating both sides. Place in skillet. Cook about 2 minutes each side, until golden brown. Serve immediately with a sprinkling of confectioners' sugar.
Makes about 8 servings