Posted on February 01, 2016

Holiday French Toast
Cooking with holiday flair does not have to be difficult - this easy dish proves the point. Baked French Toast prepared in Christmas tree-shaped pan, warm maple syrup and fresh fruit make a satisfying breakfast on a holiday or cold winter morning.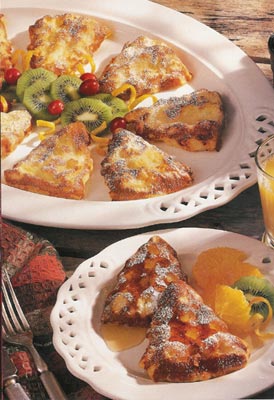 TIME SAVER:
French toast can be made ahead.
Refrigerate, covered, on cookie sheet.
Re-heat in 400 Degree F. oven to serve.
When refrigerated overnight and re-heated,
the French toast trees will shrink slightly.
Mini Christmas Tree Pan
Bake 6 pieces of French Toast at one time
Use this pan to make mini breads instead of dinner rolls,
great for Brownies and Rice Krispies treats, too.

Non-Stick Vegetable Pan Spray
16-ounce Round Loaf of Hawaiian Bread
2 Large Eggs
2/3 Cup Milk
1 Teaspoon Vanilla Extract
Confectioners (Powdered) Sugar
Maple Syrup

Pre-heat oven to 425 degrees F. Generously spray pan with non-stick vegetable pan spray. Remove excess spray from flat surface of pan with paper towel. (Do NOT use shortening or butter to grease the pan - it will make the toast stick). Cut bread crosswise into ¼ to 2/3 inch thick slices. Remove all the crust. Cut slices horizontally, rounding bottom edge, to approximate tree shape of the pan. Stir eggs, milk and vanilla extract together in a shallow bowl. Dip bread slices in mixture; place in prepared pan. Press bread into pan with back of spoon. (French Toast will puff as it bakes). Bake 10 to 12 minutes and COOL 2 to 3 minutes. Loosen edges with small spatula; remove from pan. Sprinkle with Powdered Sugar. Serve immediately with warmed syrup. French toast trees will shrink slightly but are oh so pretty on the plate!