Posted on February 01, 2016

'Some Bunny Loves Us' Decorated Cookies

Bake cookies using your own template or a cookie cutter (or purchase already made cookies from your local bakery).


Kool Chicks



For 'sparkly' chickens, use clear or colored Sanding Sugars:

*Baked your own cookies:
Sprinkle on top of cookies prior to baking.
**Bakery Bought Cookies:
Brush lightly with water or milk and sprinkle on sugars. Allow to set for several hours.

Baked and cooled cookies:
Outline the cookie and make wings with yellow frosting. Add a piece of Nestle' chocolate chip for eyes and a mini heart candy for the beak.
Fluffy Bunnies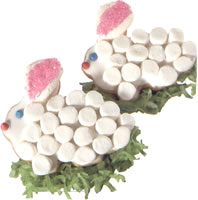 Bake cookies using your own template or a cookie cutter (or purchase already made cookies from your local bakery).

Get everything ready:
(for one bunny cookie)
1 Large Marshmallow, cut in half
10 Mini Marshmallows, cut in half
1 Mini Pink Candy
1 Mini Blue Candy
Pink Sanding Sugar
Cover entire cookie shape with white frosting. Add mini marshmallows (sticky side to the cookie) for the body. (If frosting dries too quickly, add a little dab to the bottom
of the marshmallows). Attach one-half large marshmallow for each ear. Slightly moisten the 'ear' marshmallows with water and sprinkle pink sanding sugars on them.
Dye coconut green and set bunny cookie on it.

Elegant Rabbit
courtesy of
William Sonoma

Decorate the entire cookie with frosting in your choice or colors. If you want sparkly cookies, immediately sprinkle with Sanding Sugar (purple was used in the above example)
Use white frosting to create the basket. Add mini white candies for the handle and mini colored egg-shaped candies.


Two Cute Bunnies

So easy to make these bunny faces... you can even use bread dough to create bunny rolls!
On a greased cookie sheet, place a round piece of dough for the face (use bottom of a glass or a round cookie cutter). Using another round piece of dough, cut in half and shape into ovals. Push these ovals into the round cookie so that all three pieces will bake together. Decorate with pastel pink frosting for the inner part of the ears, add
mini M&M candies for eyes and nose and pipe with brown or chocolate frosting to create the whiskers.


Jazzy Eggs

Cover entire cookie with white frosting. While frosting is still moist, add various colors of Sanding Sugars to create one-of-a-kind egg cookies. (If frosting is too dry, gently moisten with a teensy-weensy bit of milk).
Gorgeous Eggs

Some examples of frosting creativity....