Posted on February 01, 2016

FLIP FLOP


Cake




Created and decorated by

CHRIS WHITEHOUSE
This cake is sure to get lots of
oooohs and aaaaahs.
Great idea for summer parties!
Let this cake be your table centerpiece.

Prepare
, bake and frost a 13x9 rectangular cake


Yield : 2 Flip Flop Sandal Cakes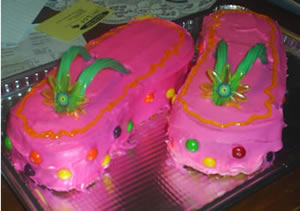 Above photo used plastic flower cupcake pics


Above photo used edible sugar shape flower

After removing cake from the oven, allow it to remain in the pan for 15 to 20 minutes. Using a paring or sharp edged knife, loosen sides of the cake and gently release onto a cooling rack. Cake must be completely cooled before cutting it into shape.
While cake is cooling, prepare frosting in colors of your choice.
The photo of this cake only needs your imagination to create sandals of your own designs and colors.
Ready to cut?
Partially freeze the cake, unwrapped, for about 1/2 hour or so. You do not want it frozen but cold enough to easily slice through the cake without creating crumbs.
Cut the cake in half lengthwise.
Using a sharp small knife, slice away a little cake at a time to create the shape of a sandal
(Suggestion: Uusing a real flip flop sandal, trace the shoe onto a piece of paper or lightweight cardstock, cut out and use for a pattern.)
Ready to frost?
Glaze the cakes with thinned-out frosting. This step is to avoid the nightmare of crumbs!
(Here is how: Using the main color frosting, place a small portion in a separate bowl and add milk, little at a time and stirring completely, until the frosting pours like a thick maple syrup). Pour the glaze over the cake pieces... the top and sides until completely covered.
Frost the SIDES of the cakes first and smooth the icing.
Frost the top of the cake and smooth flat.

Ready to decorate? (the fun part)
Place M&M or other small candies on sides of the cakes
Use Fruit Roll to make sandal strap by cutting two six-inch strips, two for each flip flop cake.
Place the Fruit Roll strips on cake as the straps
Add a sugar decoration, real flower or any decoration of your choice at the front of the flip flop cake where the sandal straps come together.

Grab a camera, take a photo and proudly display your cake!
ENJOY!
SUGAR SHAPES
:

FLIP FLOPS PARTY FAVORS

9 Assorted Color
Party Favor Decorations
FLIP FLOPS CANDLES

FLIP FLOP CAKE TOPPER SET:

Made of plastic
Two Flip Flop Sandals has magnets on the back so they can be used after the party is over
Simply lay individual flip flop sandals and plastic palm trees on any sized frosted cake
Suggestion: sprinkle brown sugar to create a beach area Take a peek... http://thepartyworks.com/product_info.php/products_id/7154


Cake Topper Kit (2 sandals, 3 double palm trees)


FLIP FLOPS CAKE ART SUGAR SHEET:

Made of entirely of sugar
Easy to use thin flat sheet
Lay on top of a 9-inch or larger round, square or rectangular frosted cake
Used by bakeries across the USA
Take a peek... http://thepartyworks.com/product_info.php/products_id/7234


Cake Art Sugar Sheet
FLIP FLOPS GIANT BALLOON
Flip Flops GIANT Sized One-Piece (two sandals) Balloon
Take a peek at... http://thepartyworks.com/product_info.php/products_id/6939