Posted on February 01, 2016

Gifts & Presents
Peppermint Cookies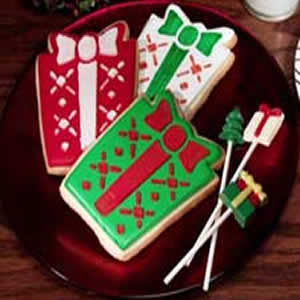 Gifts Galore Stencil-A-Cookie
http://thepartyworks.com/index.php/cPath/3_494


FoodWriter Edible Color Marking Pens
http://thepartyworks.com/index.php/cPath/3_112
Color Mist Food Color Spray - Red, Green
http://thepartyworks.com/index.php/cPath/3_221

Ready-To-Use Icing - Red, Green, White
http://thepartyworks.com/index.php/cPath/3_99
Vanilla Extract (Professional product)
http://thepartyworks.com/product_info.php/cPath/3_5/products_id/5


1/2 cup (1 stick) butter or margarine, softened
1 cup granulated sugar
1 egg
1 teaspoon baking powder
1 3/4 cups all-purpose flour
1 tablespoon milk
1/2 teaspoon Vanilla Extract
1/4 teaspoon salt
1/4 cup finely crushed peppermint candies

In large bowl, cream butter and sugar with electric mixer; add egg and continue beating.
Add remaining ingredients; mix until smooth.
Refrigerate dough 2 hours.
Preheat oven to 375° F.

Roll dough out 1/8 inch thick on lightly floured or powdered sugar surface.
Dipping cutter in powdered sugar before each use, cut out cookies.
Place cookies on ungreased cookie sheet.
Bake 12-15 minutes or until browned.
Remove from sheet and cool completely
To Decorate:
Decorate cooled cookies as desired using cookie stencil,
edible food markers, food color spray and icing.
Timesaver Tip:
Substitute 2 tubes (16 oz. ea.) refrigerated sugar cookie dough for homemade cookies.
Makes about 10 cookies
We are proud to retail
Wilton products!
* * * * * ************************************** * * * * * *