Posted on February 01, 2016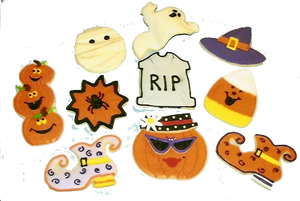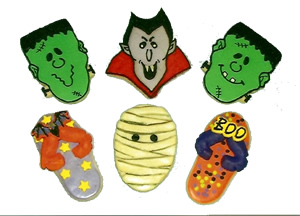 Halloween designs. The Fashion Pumpkin has separately baked bat sunglasses, hat, and flower. The mummy is made using an egg shape cookie cutter, then covering it in strips of cookie dough and baking it as one. The ghost is 3-D. I used a cookie cutter, cut out the dough, then laid the cookie over a paper towel roll that had been cut in half and covered with parchment paper. These are more fragile and need to cool down in the same shape they were baked and they need to be completely dry before attempting to ice.
The second picture has the Halloween flip flops with Cake Mate cake decorations on top. Jumbo stars and Halloween sprinkles were also used.