If you or your child is a Harry Potter fan, we have all the ideas and supplies to make your parties positively mystical!
Go on a Scavenger hunt! This treasure hunt finds school supplies for a Spells & Potions Class at Hogwarts School of Witchcraft and Wizardry so your guests are ready whenever the owl shows up at their house with a letter of acceptance for the next school year!
Be Creative... most any party game can be changed to a HARRY POTTER version... Here are some ideas to help you be creative in "converting" other age-appropriate children's party games and activities.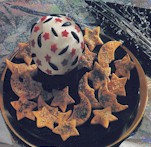 See a great-tasting future when this Cheese Ball and Celestial Tortilla Chips are served at a Harry Potter, Wizard or Magic Party.
Or perhaps some mice would be to your liking? These chocolate peanut butter mice are simply delicious!
Check out the Harry Potter House Shield Cookies too!
More great Harry Potter Party Ideas!
Of course, we have all the party and cake supplies you need!
We have so many more great FREE party plans to help you make your child's party magical! We also have plans for bigger kids and adult parties too!
Join the discussion board at http://www.thepartyworks.com/boards/
Have a special party request? This is the place to come and get help with your ideas to plan that perfect party!
Creative? Sample projects from the Creative Home Arts Club!
Make a Mother's Day Candlescape
Show mom you care this Mother's Day with this delightful candlescape created just for her.
This is just one of the great projects at Creative Home Arts Club. If your a creative soul, I'm sure you'll love it as much as I do! I am impressed with this company, the magazine is fabulous, articles have colored photos with step-by-step photo instructions plus detailed easy-to-understand directions! So I wanted to share it with you!
I just know you'll be as pleased as I am! Click Here to get your free trial membership! If you like it, it's only $1 a month to continue. If you don't, you just cancel your membership and pay nothing. So give it a try -- I did and I am so glad!

Maryann