Posted on February 01, 2016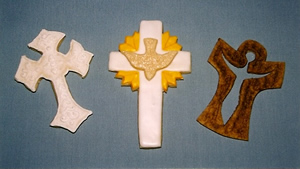 Religious Easter Cookies
The white on white cross on the left is made by piping white icing details after the bottom white layer has dried, then immediately sprinkling it with white sugar, a technique called "flocking". The dove in the middle is baked separate and decorated with cake sparkles. The cross on the right has been scored to look like wood and then painted with thinned brown icing, although a cinnamon and sugar coating would work as well.