Posted on February 01, 2016

SOLAR SYSTEM
Planets in Outer Space
Cake
Created and
Decorated by
Mary Kay Carlson
My seven-year-old daughter and I made this cake for her school fair cake competition.
Theme was "planets" in honor of Earth Days.
We found a solar system image on the internet
and tried to make our cake look like the image.
This is easy to do for kids -- since Fondant is kind of like using clay or play-dough!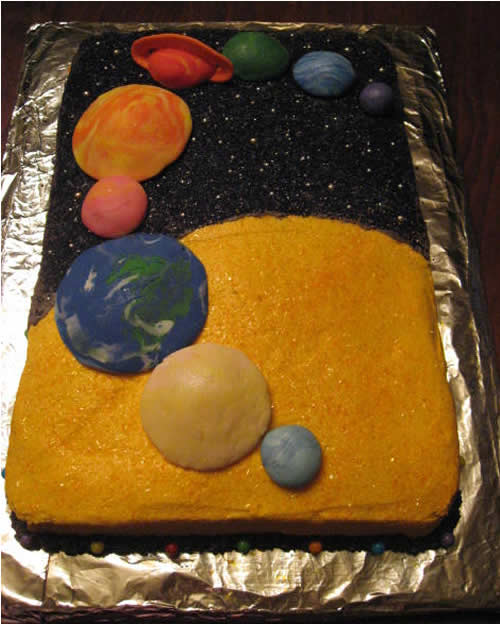 Photo used to create the cake
Editors Note: Fabulous!

Mary Kay wrote:
The cake is chocolate, iced in buttercream -- yellow on the bottom to make the sun; chocolate on the top. My daughter sprinkled black sprinkles on the chocolate buttercream to make the night sky. The sun is sprinkled with yellow and orange edible glitter. My daughter shaped the planets from fondant. (We bought the pre-colored kind like the kind found on this website -- a four-pack of primary colors, and a four-pack of the neon colors, plus also used some pink and white.) For some of the planets we marbled two or three colors together. My daughter rolled the fondant into balls, and then pressed them into the bottom of a half-circle to get a smooth, rounded finish. (For the smaller planets we used a half of a plastic craft Christmas ornament we had on hand; for the larger ones, she pressed the fondant into the base of a small bowl.) For some of the planets, we smoothed on a bit of luster dust to give the planets some shimmer. After placing the planets on top of the cake using a dab of buttercream icing, we placed silver dragee balls of three different sizes into the night sky to make "stars."
About the Cake Artist:
"I'm a working mom with a career that takes me and my family to overseas job assignments, most recently in Kiev, Ukraine. I am now back in the USA. In my free time I enjoy cake decorating, and have really found ThePartyWorks and CakeWorksCentral websites helpful. I hope others find this idea helpful."

********************