Posted on February 01, 2016

Christmas Cookies and Cupcakes
Traditional
Christmas
Cookies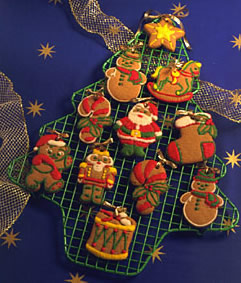 10 Piece Plastic Christmas Cookie Cutter Collection Set
http://thepartyworks.com/product_info.php/cPath/489/products_id/3658
Christmas Red, Kelly Green, Golden Yellow Icing colors
http://thepartyworks.com/index.php/cPath/3_5

Decorating Tips 2, 6
Your Favorite Gingerbread Recipe
Your Favorite Roll-Out Cookie Dough or Cookie Dough from the grocery store

Cut out cookies from Gingerbread dough.
Color and thin down Cookie Dough with water until it will pass through tip 2.
Outline and pipe in designs on cookies with tip 2.
Bake according to recipe or manufacturer's directions.
While still warm, use opening of 6 to make hole in tops of cookies.
Let cool.

Each serves 1
We are proud retailers
of the superb
Wilton products.
Sold by
www.thepartyworks.com
* * * * ***************************************** * * * *