Posted on February 01, 2016

For an evening, make the world revolve only around a candlelit table for two. This special dinner is an intimate easy celebration for whirlwind lives -- this menu has elegance that treats your loved one well, and its ease of preparation will suit you well, too.

Menu
Tossed Green Salad
Garlic Toast
Poached Salmon with Four Cheese Sauce
Rich Chocolate Mocha Mousse with Chocolate Zigzags
Garlic Toast
A quick and tasty recipe
Combine 2 tablespoons softened butter, 1 tablespoon shredded Parmesan cheese and 1 finely chopped clove garlic in a small bowl. Spread onto six French baguette slices. Broil for about 1 minute or until golden brown.

Poached Salmon with Four Cheese Sauce
Simple yet elegant, poached salmon is a dish which may be repared for any sophisticated occasion. Try poaching twice the amount of fish and serving it the next day over mixed lettuce for a cold salmon salad.
Ingredients
1 package (9 ounces) refrigerated Contadina Linguine, cooked, drained and kept warm
1 cup (10-ounce container) refrigerated Contadina Four Cheese Sauce, warmed
1/2 cup water
1/4 cup dry white wine or chicken broth
1/4 teaspoon salt
1/8 teaspoon ground black pepper
2 (6 ounces each) salmon fillets or steaks
2 tablespoons finely grated carrot (optional)
1 tablespoon chopped fresh parsley (optional)
Dill weed sprigs (optional)
Directions:
Combine water, wine, salt and pepper in large skillet. Bring to a boil; add salmon. Reduce heat to low; cook, covered, for 8 to 10 minutes or until thickest part of salmon flakes easily when tested with fork.
Toss pasta with carrot and parsley; divide onto plates. Top with salmon. Spoon sauce over each serving; garnish with dill weed.
Makes 2 servings.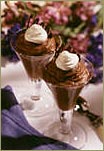 Rich Chocolate Mocha Mousse with Chocolate ZigZags
Unlike ordinary mousse, this dessert is especially rich and dense -- the ultimate for chocolate lovers. Serve topped with whipped cream and piped chocolate ZigZags. You'll detect a hint of coffee in the rich, creamy, so-easy-to-make mousse.
Ingredients
1 cup (6 ounces) NESTLÉ® TOLL HOUSE® Semi-Sweet Chocolate Morsels
3 tablespoons butter, cut into pieces (we recommend LAND O LAKES® Butter)
2 teaspoons TASTER'S CHOICE 100% Pure Instant Coffee
1 tablespoon hot water
2 teaspoons vanilla extract
1/2 cup heavy whipping cream
Directions
MICROWAVE morsels and butter in medium, microwave-safe bowl on HIGH (100%) power for 1 minute; stir. Microwave at additional 10- to 20-second intervals, stirring until smooth. Dissolve coffee granules in hot water; stir into chocolate. Stir in vanilla extract; cool to room temperature. WHIP cream in small mixer bowl on high speed until stiff peaks form; fold into chocolate mixture. Spoon into tall glasses; chill for 1 hour or until set. Garnish as desired.
Directions for the ZigZags:
Place approximately 1/4 cup Nestle' Toll House Semi-Sweet Chocolate Morsels in heavy-duty plastic bag. Microwave on HIGH (100%) power for about 30 seconds; knead until smooth. Cut tiny corner from bag; squeeze a zigzag design onto waxed paper. Chill until firm. Use as garnish.
Makes 2 servings

Compliments of
Nestle's www.VeryBestBaking.com