Posted on February 01, 2016

Awesome Double Chocolate Valentine's Brownies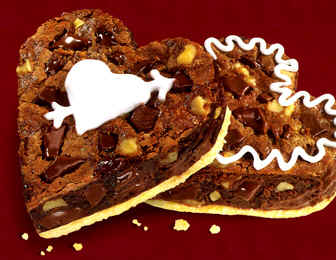 This decadent and easy brownie recipe will delight Valentine sweethearts of all shapes and sizes

1 1/4 cups unsifted flour
1/4 cups sugar
1/2 cup cold margarine or butter
1 (14-ounce) can Eagle® Brand Sweetened Condensed Milk (NOT evaporated milk)
1/4 cup unsweetened cocoa
1 egg
1 teaspoon vanilla extract
1/2 teaspoon baking powder
1 (8- ounce) milk chocolate bar, broken into chunks
3/4 cups chopped nuts (optional)

Preheat oven to 350º. Line 13x9-inch baking pan with foil; set aside.
In bowl, combine 1 cup flour and sugar; cut in butter until crumbly. Press on bottom of pan. Bake 15 minutes.

In another bowl, beat Eagle® Brand, cocoa, egg, remaining 1/4 cup flour, vanilla and baking powder. Mix in chocolate pieces and nuts. Spread over prepared crust. Bake 20 min. or until set.

Cool. Use foil to lift out pan. For hearts, cut with heart-shaped cookie cutter or, with knife, cut around waxed paper heart shape. Or cut into bars. Decorate with icing or gels if desired. Store covered.

Compliments of
Eagle® Brand
http://www.eaglebrand.com/