Posted on February 01, 2016

Pizza Hearts
for Two

The perfect lunch or dinner
for pizza lovers!
This recipe uses barbecue sauce but you can prepare yours
the traditional way with pizza/tomato sauce.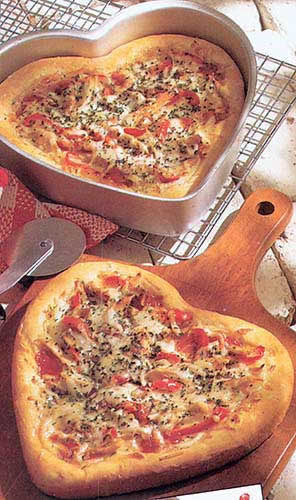 9 Inch Heart Pan
(2 pans needed or make/bake pizza crusts the day before for a larger crowd)
http://thepartyworks.com/product_info.php/cPath/3_6/products_id/7
2 (6 1/2 oz.) boxes pizza dough m ix -or- purchase freshly made
dough from your local pizza joint or Italian grocery store
4 oz. mozzarella cheese, shredded
1/2 cup barbecue sauce
1 medium sweet onion, sliced
1 sweet red pepper, sliced
1 purchased barbecued chicken, boned and cut in slices
4 oz. provolone cheese, shredded
Preheat oven to 425°F.
Spray heart pans with vegetable pan spray.
Prepare pizza dough and divide.
Press into pans, forming an edge.
Sprinkle mozzarella on crust.
Top with barbecue sauce.
Add onion, peppers and chicken.
Sprinkle with provolone cheese.
Season with salt and pepper.
Bake 20 minutes, or until browned.
Let cool 5 minutes before removing from pans.

Makes 2 servings



We are very proud to sell
Wilton products!
* * * * ***************************************************************************** * * * *