Posted on February 01, 2016

White Bean Appetizer Heart
So So So delicious
and very different for a potluck!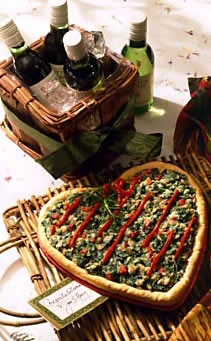 9 Inch Heart Pan
http://thepartyworks.com/product_info.php/cPath/3_6/products_id/7
1 can (15.5 oz.) Great Northern White Beans

1 lb. fresh spinach, lightly steamed, well drained and chopped OR 1 package (10 oz.) frozen chopped spinach, thawed, well drained

1 tablespoon white wine vinegar

1 tablespoon olive oil

1 tablespoon finely chopped onion

1 tablespoon finely chopped fresh basil

2 tablespoons drained and chopped roasted sweet red pepper PLUS 1 whole piece, drained and sliced (for garnish)

1/2 to 3/4 teaspoon salt

1/4 teaspoon black pepper

1 can (10 oz.) refrigerated pizza crust dough
or purchase fresh pizza dough from your local pizza restaurant or Italian deli.

Herb or parsley sprigs (optional)



Allow plenty of time for preparations...
Drain beans and mash.
Stir in spinach, white vinegar, 1 tablespoon olive oil, onion, basil, chopped roasted red pepper, salt and black pepper.
Refrigerate 1 hour or overnight.
Preheat oven to 425°F.
Roll dough out to 15 x 10 inch rectangle.
Press dough into bottom and up 1 inch on sides of pan, trimming edges.
Prick bottom with fork and refrigerate 10 minutes.
Lightly brush crust with olive oil.
Bake 10-12 minutes or until golden brown and crisp.
Remove from pan and cool.

When ready to serve, spread bean mixture into cooled crust.

Garnish top with red pepper strips and herbs, if desired.

Makes 10 appetizer servings

We proudly display and sell
Wilton products!
* * * *************************************************************************** * * *