Posted on February 01, 2016

Invitations:
Download graphics to make invitations. Cut out with fancy scissors and mount on cardstock. The following site will give you some links to explore and find what you're looking for: http://veggietales.net/veggieweb/vw-graphics.html
Decorations:
Use green, yellow and red. For table decorations, glue eyes on vegetables and maybe some little clothes and they could sit on the table.
Goodie Bags:
Bookmarks, inexpensive vegetable seed packets, inexpensive kid-size gardening gloves, coloring pages- http://www.veggietales.net/coloring/coloring.html
Bookmarks made from color page graphics, put the guests' names on them. Use fancy scissors to cut them out, mount them on cardstock and cover them with clear Contact paper after the guests have colored them.

Games & Activities - Click Here
Compliments of
Boardmanweb.com
© 1996-2000 The Boardman Web
You may not use or reproduce this information without written permission from Boardmanweb.com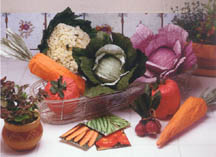 A New Twist In Vegetables
Crisp carrots; crunchy radishes; fresh, full heads of cabbage and cauliflower; plump red tomatoes - these tasty-looking veggies are made of Styrofoam covered with twisted paper ribbon. You can "harvest" a crop like this one in a fraction of the time it would take you to grow the edible varieties. What's more, paper veggies last indefinitely-without refrigeration!
For directions Click Here
Compliments of Laura at Practical Kitchens
Menu & Recipes
By Kellie Head
www.ParentingHumor.com
Larry the Cucumber Cooler
1 large cucumber, peeled and cut into large pieces
2 cups water
1 cup ice
3 tbsp. sugar
Juice of 1/4 lemon
Place all ingredients in blender and puree until smooth. Serve
immediately, garnished with cucumber slice.

The French Peas Native Dish
4 tsp. butter
1/2 head iceberg lettuce
2 cup frozen green peas
1/2 tsp. granulated sugar
3 green onions, chopped
1 tbsp. Water
1 tsp. Chopped fresh rosemary or 1/4 tsp. dried
1 clove Garlic, minced
Freshly ground black pepper
Pinch of flour
Salt to taste
Melt butter in saucepan. Slice lettuce in long shreds. Add 1/2 of the lettuce to butter in pan. Top with the next 8 ingredients; spread remaining lettuce on top. Cover and bring to a boil. Lower heat; simmer for 15 minutes, stirring 2 to 3 times.

Archibald Asparagus Roll Ups
1 can asparagus spears
1 loaf white bread
melted butter
grated sharp cheddar cheese
Remove crusts from bread slices. Roll the bread with a rolling pin until thin. Brush with melted butter, then sprinkle with grated cheese. Add an asparagus spear, placing it near the edge and rolling tightly to the opposite edge. Freeze roll ups in foil. Bake at 375 Degrees for 20 or until golden brown.

Laura and Lenny Carrot Pennies
8 large carrots, thinly sliced
1/4 cup thawed frozen concentrate apple juice
1 Tbsp. grated orange rind
1 tsp. cornstarch
1/8 tsp. ground cloves
Steam carrots for 15 min or until tender. Combine apple juice, orange rind, cornstarch and cloves in a large saucepan. Mix until smooth, then cook and stir constantly until mixture thickens. Add cooked carrots to the sauce and stir to coat.

Bob the Tomato Mozzarella Tomatoes
4 medium tomatoes, sliced
8 cup soft bread cubes
3 cup shredded mozzarella cheese
4 bacon strips, crumbled
1/2 cup melted butter
1/2 cup chopped onion
2 eggs, beaten
1/2 tsp. garlic salt
1/2 tsp. dried oregano
Place a single layer of tomatoes in a greased 13x9x2-inch baking dish. In a large bowl, combine bread cubes, 2 cups of cheese, bacon, butter, onion, eggs, garlic salt and oregano. Mix well. Spoon over the tomatoes. Top with remaining tomatoes; sprinkle with remaining cheese. Bake, uncovered at 350° for 30 minutes or until heated through.
- - -
Kellie Head is the Chief Lazy Gourmet in a family of eight and the editor of ParentingHumor.com -- home of Lazy Gourmet cooking. Individual