Snowcapped Ceremony
A beautiful winter wedding cake
that will be remembered by everyone for years to come!
Baking the cake is the most difficult part of this impressive masterpiece...
Think about decorating a small round cake using the FONDANT
instructions below... Fondant is so easy to use, no experience necessary!
It is like playing with children's play dough and is what gives the cakes the smooth look..
A smaller cake is perfect for a special family anniversary celebration.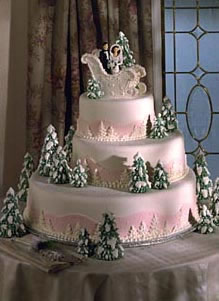 8, 12 in. Round Pans
18 in. Half Round Pan*
Cake Decorating Tips 1, 2, 3, 5, 18
Tree Former Set (Wilton)
Wooden Dowel rods
Cake Boards
Fanci-Foil Wrap
Love's Duet Couple Cake Topper (Wilton)
Meringue Powder
Gum Paste Mix
Your Favorite Royal Icing Recipe
Your Favorite Buttercream Icing Recipe
Confectioners Sugar
Rose, Willow Green, Royal Blue Icing Colors
http://thepartyworks.com/index.php/cPath/3_5


Ready-To-Use Rolled Fondant (8 pks. needed)
Fondant is so much fun to work with, no experience necessary!
http://thepartyworks.com/index.php/cPath/3_431


*IMPORTANT Cake Baking Note:
Fill 18 in. Half Round Pan 1/2 full with batter.
Bake two sets of half-round cakes to measure 4 inches high

The cakes has a perfectly smooth surface which is achieved with a blanket of Ready -To-Use Rolled Fondant covering each tier.
Fondant handles beautifully and is easy to tint as icing or purchase already colored fondant. Treeformers help you create the snowy pines fast.
And the sleigh is simply cut from rolled gum paste and piped with buttercream.
To Make the Trees:
(make ahead of time)
Make 18 trees in various sizes using tree formers.
For a variety of sizes, stack 2 to 4 tree formers and cover with waxed paper.
Tree sizes should range from 3 to 6-1/2 inches.

(Note from Mary Ann: I use pointy ice cream cones for larger trees when I need them...so easy to decorate)

To achieve color for branches, mix a few drops of royal blue in willow green.
Pipe tip 18 pull-out stars for branches, beginning each section with a straight extended row of bottom branches, and adding downward pointing rows above.
Repeat for new sections 2 or 3 times to top of tree.
Pipe snow, using tip 2 and thinned down Royal Icing.
Sprinkle with sifted confectioners sugar.
Set aside.
To Make the Sleigh:
(make ahead of time)
Prepare gum paste using package directions.
Using a sleigh pattern, traced on waxed paper,
cut 2 sleigh sides, 1 back 2-1/4 x 3 in. and 1 front 2-1/4 in. x 2 in.
Roll out gum paste and cut out sleigh patterns.
Let dry 1-2 days.
Assemble sleigh with Royal Icing.
Use tip 2 for outlines, bead designs, dots, scrolls
and pull-out fur on edge.
Set aside to dry.

(Note from Mary Ann: I actually use the FONDANT
and cover sleigh cut-outs made of cardstock that
I made for a holiday cake a few years ago)
To Make the Bride and Groom:
(make ahead of time)
Using the cake topper, remove veil from bride.
Use royal Icing and tip 3 to overpipe hood.
Add tip 1 pull-out fur on hood, neckline and muff behind bouquet.
Tint 1 package fondant rose or purchase already tinted Pink Fondant.
. Position cakes on cake circles.
Ice 2-layer cakes.

Cover cakes with white fondant.
(Refer to package directions for tips on using rolled fondant.)
Roll out small amounts of pink fondant, cut to 12 inch lengths.
Cut random wavy lines in pink fondant, ranging from 1 inch to 3 inches high.
Brush back of fondant with water, attach to cakes.
Prepare cakes for offset stacked construction:
Place bottom tier on foil-covered board.
Dowel rod bottom and middle tier for support.
Position 12 in. middle tier 1-1/2 in. from left edge of 18 in. tier,
8 in. cake will be positioned 1-1/2 inches from right edge of 12 inch tier.
To keep stacked tiers stable, sharpen one end of a dowel rod and
push through all tiers and cardboard circles to base of bottom tier.
On pink fondant, draw trees with tip 2 zigzag,
then overpipe with pull-out motion.
Pipe tip 2 pull-out around bottom edge of cakes for snow effect.
Pipe tip 5 bead border around bottom of all cakes.
|
At the reception, position trees, sleigh, bride and groom.
Serves 183
We are proud retailers
of Wilton products!
* * * * * ********************************************* * * * * *