Posted on February 01, 2016

Luv-Bugs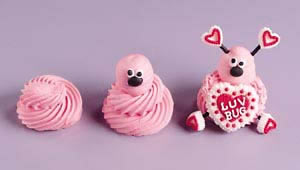 The secret to making successful frosting objects, only use a stiff consistency Buttercream icing.

Try practicing on a piece of waxed paper and
when you are finished, simply scoop up all your frosting
and put back into your pastry bag.

Hold the pastry bag at a 90° angle and pipe using cake decorating tip 6B for the body.
Pipe using tip 2A to form a ball for head.
Pipe tip 4 dot nose, tip 2 dot whites and
pupils of eyes (smooth with finger dipped in cornstarch).


Pipe tip 1 "Luv Bug" message on heart and position on bug
-or-
place a little frosting on the back of a Conversation Heart candy.


Pipe tip 16 arms from body to hold heart.
Attach heart icing decorations to licorice and
insert for legs and antennae.
We are proud retailers
of Wilton products!
* * * * ******************************************************** * * * *